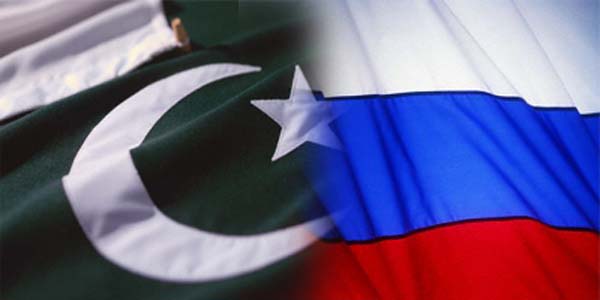 Diplomatic ties between Pakistan and Russia were established in May 1948, but throughout the second half of the 20th century, there was not much substance to it. Post 9/11 world saw a rekindling of their bilateral relations in the war against terrorism. Some headways were made for cooperation in the defence and energy sectors. Prime Minister Imran Khan's presence in Moscow on the night of Ukraine's Invasion concerned many in the West regarding Pakistan's commitment to the principle of state sovereignty.
Despite western pressure, Pakistan refrained from condemning Russia and advocated for dialogue to end war hostilities.
Pakistan's National Security Policy, launched in January 2022, envisioned geo-economics, rather than geopolitics, at the core of national security. Pakistan aims to develop bilateral economic relations based on mutual benefits with every potential country.
The visit came in the wider geo-political context of the United States' withdrawal from Afghanistan and the resurgence of Russia's sphere of influence in wider Central Asia and beyond. Moreover, US rivalry with China and the alienation of Russia via economic sanctions resulted in China-Russia proximity. Many foreign policy experts are concerned about the revival of bloc politics in the global arena.
History of Pak-Russia Relations
Given the colonial legacy, Pakistan's foreign policy posture was tilted towards the West at its inception. During the cold war, a geo-strategic partnership between US and Pakistan culminated. As a result, Pak-Russia relations saw the darkest time. Moreover, growing Indo-Russian defence cooperation during the 1970s further nourished mistrust between both.
Tangible improvement in relations came after Pakistan decided to join the international struggle against terrorism. During the historic visit of Russian PM Mikhail Fredkov in 2007, MoU was signed to explore prospects for collaboration in the oil sector. Although political desire was there but on the ground economic cooperation was minimum.
Growing Indo-US strategic partnership influenced a conclusive change in Russian policy towards South Asia. In 2011, Russia publicly endorsed Pakistan's bid to join Shanghai Cooperation Organization. In the following years, defence cooperation between both states improved significantly. In 2014, Russia lifted its self-imposed arms embargo on Pakistan. The first joint military exercise between the two states was held in 2016. Under the defence sales agreement of 2015, Pakistan received 4 Mi-35 helicopters worth US$153 million in 2017. In the following year, Russia also endorsed Pakistan's stance on criteria-based membership in the Nuclear Supplier Group, rather than India's merit-based position.
Unfortunately, economic cooperation on the ground lags. Even though the Inter-Governmental Commission on trade, economic, scientific and technical cooperation was established between both countries in 2015, trade remains barely at US$711 Million. Moreover, the development of North-South Stream, later named Pakistan Stream Gas Pipeline, also had not materialized after 7 years of delay. In 2021, another agreement to develop PSPG was signed in Moscow between Pakistan's ambassador and the Russian Energy Minister.
Followed by Ukraine's invasion, the West's economic sanctions against Russian companies further gloom the prospects of PSPG.
Pakistan's Response to the Russian Invasion
After the invasion of Ukraine, western pressure mounted on Pakistan to condemn Russia's invasion of Ukraine. Pakistan refrained from condemning Russia, and instead advocated for diplomacy and dialogue to end the crisis. Moreover, Pakistan also abstained from voting on the United Nations Security Council and General Assembly resolutions to condemn the Russian invasion. The then Foreign Minister of Pakistan, Shah Mehmood Qureshi, in his interview with Voice of America stated:
"We do not want to be part of any camp. We have paid the price for being in camps. That is why we are very carefully treading. We don't want to compromise our neutrality, and that's why we abstained."
The horrors of the 1979's Afghanistan invasion and the global war on terror still haunt Pakistan. The dominant perception in Islamabad suggests that it is high time to leave global camp politics and improve bilateral relations with potential countries, including Russia, to tackle domestic economic challenges.
Avenues for Future Cooperation:
Russia is a potential partner in this regard, given its overarching influence in Central Asia and vast energy resources.
Energy Sector
Pakistan has established itself as a major energy consumer in the global energy market. It is facing a natural gas shortfall of 1.5 billion cubic feet/day. European sanctions on Russian gas and oil necessitated the demand for new markets. In this regard, Pakistan can be a vital market for Russian gas and oil exports.
Central Asia
Pakistan's Vision Central Asia is at the heart of the new NSP, based on five pillars of cooperation such as political and diplomatic, energy and connectivity, trade and investment, security and defence and people-to-people relations. Russia can be a potential ally in securing Pakistan's economic interests in Central Asia, as it's been doing for China.
Afghanistan
A peaceful and stable Afghanistan is conducive to regional connectivity and economic growth. Amid the US withdrawal from Afghanistan, Pakistan and Russia are coordinating to instil a more inclusive government in Afghanistan. Russia, along with China, is willing to coordinate with Pakistan and other regional actors to ensure lasting peace in Afghanistan.
China factor
China and Pakistan are key strategic partners in the region. China Pakistan Economic Corridor is the flagship project of China's broader Belt and Road Initiative which aims to revive the ancient trading Silk Route of China. Pakistan's aim of enhancing regional trade and connectivity significantly depends on this mega project.
China's relations with Russia, on the other hand, are deepening primarily due to overt US threats in their security calculus. Rising tensions in the Indo-Pacific and alienation of Russia via economic sanctions are potentially realigning Russia and China. Since Ukraine's invasion, China has become the largest importer of Russian crude oil, mounting crude oil imports to 8.4 million tonnes in May this year, 55% higher than the previous year.
China's closer ties with both states can bridge the gap. Convergence of geostrategic interests in the region would be conducive to it. Moreover, Pakistan needs Russian energy exports to materialize the economic and infrastructure development envisioned by CPEC.
Reaffirmed by Ukraine's crisis, Pakistan is ready to dehyphenate its relationship with Russia from the US. Islamabad is aiming to deepen bilateral trade and economic cooperation with Russia, without hampering its strong trade and economic partnership with the West, especially US. Some policy experts in Islamabad reason that Russia's variegated interaction with Pakistan is to check India growing strategic partnership with the US. Perhaps its high time for Russia to consolidate the friendship of mutual benefits with substantial progress in PSPG development. Reaffirmation of PSPG development by Russian president Vladimir Putin at the SCO head of state meeting is a positive development in this regard.
---