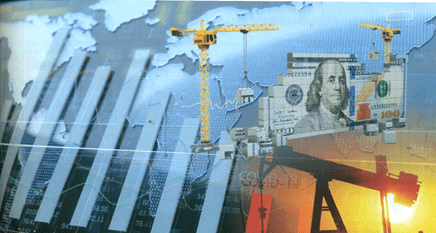 Introduction
Writing in the magazine, "The National Interest" in 1990, American military strategist and author, Edward Luttwak coined the term "geo-economics" while positing that waning of the Cold War would steadily reduce the importance of military power in world affairs. Instead, an admixture of the logic of conflict with the methods of commerce would gain greater salience. Three decades on, while wars among states have reduced, strategic rationale continues to influence inter-state behaviour significantly. The military invasions of Afghanistan and Iraq, the Russo-Ukrainian conflict, and reckless Indian military adventurism in the region, to cite a few examples, suggest that competition among states remains as much in the strategic realm as it does in the economic realm.
However, the shared threats of transnational terrorist groups, rise of right-wing demagogues, pervasive economic disparity, and climate change and the potential implications of these factors on collective human security are as much a reality of the post-Cold War era. They necessitate not only a different approach to political and economic interactions based on collective benefits but also demand an adaptation of the concept of "geo-economics", where economic relations are not viewed through a zero-sum game but instead promote shared growth, mutual prosperity, and uplift of vulnerable communities. The evolving meaning of security, intensifying globalization and connectedness, and challenges of sustainable development necessitate a fundamental rethink of statecraft and political outlook of states.
Comprehensive National Security
Not unlike other developing states, Pakistan has faced a real dilemma in the national security sphere: how to maintain a delicate balance between the need for human security for our citizens while ensuring requisite investment in defence. Given our geo-political position, internal security challenges, and most importantly, the nature of threats emanating from our neighborhood, Pakistan has had little choice but to address urgent traditional security threats before. all else. However, a weak economy meant that our national resource pie was never large enough to judiciously address both defence and human welfare. Consequently, the latter suffered.
This dynamic also led to an unhealthy 'guns vs butter' debate in the country because it has pitted one against the other, without accounting for the nuanced inter-linkages between both, and their net effects on our national security.
In reality, traditional and human security are not mutually exclusive, but rather complement each other. Pakistan's first National Security Policy (NSP) focuses on the concept of 'comprehensive national security', positing traditional and non-traditional security in a symbiotic relationship.
Taking a holistic view, comprehensive national security recognizes the transforming nature of threats and opportunities that an evolving globalized world throws up. Conventional security threats such as maintaining territorial integrity and sovereignty are compounded by economic vulnerability, global epidemics, global warming and internal social fissures. Therefore, defense policy is placed as part of an overarching security framework that accords center stage to the economy.
A robust economy will strengthen Pakistan to effectively address the whole spectrum of traditional and non-traditional security challenges by increasing the size of the national resource pie, which will in turn allow policy makers to adequately apportion resources for both defence and human development needs. Realizing this goal requires the actualization of Pakistan's vision of geo-economics. In our context, a geo-economic paradigm builds on connectivity, effective development partnerships with the world, and fostering of peace within our country and beyond. Pakistan has already embarked on this road, taking important policy steps in different areas under this overarching framework.
Pakistan's Geo- Economic Vision
A strategic and potentially transformative shift is occurring in Pakistan, as the country's leaders are emphasizing geo-economics to supplement the focus on geopolitics, Pakistan is boldly seeking collaboration, looking to settle political disputes amicably, and fostering economic interdependency. At its core, this emphasis is being driven by a realization that Pakistan needs sustained economic growth to achieve Comprehensive National Security.
The geo-economics focus carries added significance in Pakistan's case as the country has often been seen from a narrow security prism by outsiders. A debate has always ensued, with many arguing that Pakistan has pursued a policy of hyper-realism, fixating attention on traditional security while neglecting economic development and human welfare.
These critiques have overlooked Pakistan's security compulsions and a troubled region crystallized by a hegemonic neighbor greater in size and perennially antagonistic towards us. A mix of tensions with India and constant turmoil to the west necessitated concentration on territorial integrity. Geo-political developments affecting our region brought us global wars, which were not of our making. The four-decade long wars in Afghanistan as well as sectarian tensions within the Muslim world challenged Pakistan's security directly, with our territory being used as a proxy battleground. Pakistani leaders are not without blame in this equation, as they allowed outsiders to see Pakistan as a staging ground for conflict in return for political legitimacy or monetary assistance. Pakistan's interests may not have always been adequately protected in these bargains.
A key factor in Pakistan's inability to negotiate better with the world has been its weak economy, which constraints truly independent foreign policy choices. Indeed, going forward, the realization of Pakistan's geo-economic vision will be dependent upon a strong and robust economy. Without developing a globally competitive economic base and consequently expanding the resource pie, we will continue to fall behind our competitors. Both traditional and non-traditional security will suffer, inevitably straining the delicate balance of resource allocation to the different strands of comprehensive national security.
The impediments in Pakistan's efforts to grow a strong economy include its perennial external account imbalance, which is driven by a narrow base of exports, lack of export-oriented foreign direct investment and dependence on largely unskilled labor for remittances. External imbalance depletes Pakistan's reserves and undermines the value of its currency. Despite recent growth, Pakistan's exports of goods and services are still not adequately diversified. Pakistan has to address this challenge, besides drawing in investment and ensuring high productivity in key sectors while developing skilled human resources which are globally competitive.
Without a robust economy, Pakistan's dependence on external bailouts will grow, impinging on our
economic and political sovereignty and diplomatic Clout.
In realizing these goals, Pakistan will have to ensure domestic political stability, work on further easing of restrictions for potential investors, expanding economic partnerships, offering Pakistan as a connectivity hub for South and Central Asia and, equally importantly, updating Pakistan's narrative that reflects this vision. Without compromising on our vital national security interests, as far as possible, Pakistan's bilateral and multilateral engagements with partner states in the region will be predominantly characterized by economic interactions: expanded trade, transnational rail and road infrastructures, synergizing advantages of each partner state, fostering mutual economic dependencies and greater cooperation on shared threats such as climate change and poverty alleviation. Connecting the three pivotal regions of the Middle East, Central Asia and South Asia, Pakistan's position lends it a unique opportunity to attain these goals and herald a new politics of cooperation and economic integration for the benefits of its citizens.
Our geo-economics focus will naturally move us away from global camp politics. Pakistan's strategic partnership with China is based on shared interests and mutual respect, and we are committed to strengthening it further. Despite being partners in the war on terror, Pakistan's bilateral relationship with the West, especially the US, has been overshadowed by the Afghanistan war. Pakistan seeks a broad-based relationship with the US on a spectrum of issues, ranging from security and economic cooperation to climate change and investment in clean energy. We will continue to expand our relations with all other important partners, including in the Muslim world where we already enjoy truly cordial relations with all others.
The Centrality of Regional Connectivity in Pakistan's Geo-Economic Vision
Thus far, our most prized asset-a geo-strategically pivotal location-has often been seen from a hard security prism. Pakistan has faced genuine external threats from its neighborhood, and we have sought to bandwagon with external patrons to offset those challenges. The corollary has been that we have been unable to fully utilize our geography's unique advantage of being the natural wheel of regional economic integration and connectivity.
The China Pakistan Economic Corridor (CPEC) lies at the core of the connectivity pillar of Pakistan's geo-economic vision. Both countries have made significant strides in realizing the potential of this multi-billion dollar investment in diverse sectors.
The first phase of CPEC was focused on road infrastructure and energy projects, The second phase is focused on industrialisation, agriculture modernisation, tourism promotion, and socio-economic development. The most important part of the second phase will be the prioritization of Special Economic Zones, bringing in investment, promoting greater industrialization, and generating increased employment opportunities.
Infrastructure developed under CPEC has also positioned Pakistan perfectly to provide the landlocked republics in Central Asia access to the shortest land route to our warm waters to enhance their trade with the rest of the world. On the other hand, Pakistan stands to benefit from abundant mineral resources and hydrocarbons in Central Asia. Central Asian Republics and Pakistan have already made progress in the connectivity realm. There are two major energy projects expected to be completed by 2024, CASA-1000 (Central Asia-South Asia Power Project) would export surplus electricity from Kyrgyzstan and Tajikistan to Afghanistan and Pakistan", The Turkmenistan-Afghanistan-Pakistan-India (TAPI) is a transnational gas pipeline, which will traverse four countries covering approximately 1,600 kilometers. TAP I, whose construction started in 2018, will transport 33 billion cubic metres of gas per years.
To expedite transport connectivity between Pakistan and Central Asia, Uzbekistan, Afghanistan and Pakistan are invested in a rail project, connecting Central Asia and South Asia, If realized, the expansion of this railway network will, according to some estimates, reduce the time required for the movement of commodities from Central Asia to Pakistan by half, reducing transport costs by nearly 35 percent, Finally, road connectivity is already being used to expand trade, with the new TIR regime having been tested and allowing trucks from Pakistan to travel all the way to Turkey and back.
Afghanistan: A Corridor of Connectivity
Westward regional connectivity for Pakistan is inextricably linked with peace in Afghanistan. As Afghanistan enters into a new phase of political transition after the Taliban's takeover, the world should not repeat past mistakes by turning its back on Afghanistan and leaving neighboring countries to bear the brunt of the post-withdrawal socio-political and security fallout. After four long decades of unrelenting war and destruction, Afghans deserve to live in peace. The sustainability of a semblance of peace and stability in the country depends on Taliban's capacity to govern effectively by protecting the rights of all Afghans and preventing Afghan soil from being used by terrorists; and the world's constructive engagement with Afghanistan to help it avert civil strife, gain political stability and induce social healing, It is the collective responsibility of the international community to help Afghanistan become a pivot to regional connectivity and gee-economics, not a battleground for zero-sum proxy wars among great powers and regional states.
Moreover, given Afghanistan's geographical position connecting Central Asia, South Asia and the Middle East and its vast untapped mineral resources, it too has the potential to become a hub of increased economic integration and attract huge foreign investments. With regional states and international powers exploring new investment avenues and developing road and sea infrastructure for greater economic connectivity, Afghanistan offers a unique opportunity where the gee-economic interests of different states could converge. It will not only put Afghanistan on a path of peace and prosperity, but also provide new prospects for mutual cooperation among states with differing gee-strategic interests.
Pakistan is committed to supporting a peaceful and stable Afghanistan. While for the rest of the world engaging constructively with Afghanistan may be a choice, for Pakistan it is a compulsion. Pakistan has already been providing humanitarian support and is acting as the land and air bridge for global assistance to reach Afghanistan. The reality, however is that Pakistan alone does not have the resources to support Afghanistan. The world must work in a coordinated fashion to provide sustained development and institutional support, and use the leverage it provides to ensure moderate and inclusive governance for the benefit of the average Afghan and absence of terrorist activity from Afghan soil. Pakistan has already posited the possibility of acting as the lynchpin for co-investment models whereby otherwise competing states come together to invest jointly in Afghanistan. Even connectivity visions can intersect for maximum benefit. For instance, CPEC-induced connectivity in Pakistan can easily be extended to Afghanistan and will benefit the Afghan economy tremendously. China has already expressed interest in doing so. Similarly, the US championed US-Uzbekistan-Afghanistan-Pakistan quadrilateral connectivity initiative can be pursued to Afghanistan's benefit. Moreover, Pakistan could set up special manufacturing units where Pakistani, Afghan and international investors can invest in processing Afghan raw materials for export. Such out-of-the-box steps hold great promise but require consensus and initiative.
India: A Closed Avenue?
Pakistan believes in amicable resolution of all outstanding disputes with India, India's nefarious designs against Pakistan are damning and well-documented. In this regard, Pakistan has issued comprehensive dossiers that document Indian collusion and complicity with terrorist and separatist groups attacking Pakistan as well as its continuing crimes against humanity, war crimes, and genocidal acts in Indian Illegally Occupied Jammu and Kashmir (IIOJK). The world has long known India's destabilizing activities in the region, but political expediency and strategic ties with some key countries have led them to turn a blind eye, and even embolden India to act recklessly against Pakistan and in IIOJK. Indian activities are not confined to destabilizing Pakistan internally, it also launched a global campaign to malign Pakistan, run an information war, and manipulate global public opinion against Pakistan. A snapshot of these activities is meticulously documented in the EU DisinfoLab Report, Indian Chronicles, that confirms Indian use of an extensive global fake news network specifically designed to spread disinformation about Pakistan.
South Asia's progress as a region is held hostage to India's regressive behavior. The nearly two billion South Asians deserve better than inhabiting the world's least integrated region where poverty is rife and socio-economic development of the overwhelming majority is stymied due to lingering conflicts and political acrimony. India remains the roadblock, with the present Indian government's blatantly fascist ideology and hegemonic tendencies driving instability in the entire neighborhood.
While seeking peace and constantly reminding India of the need to recognize the importance of living like a civilized neighbor, Pakistan will not be complacent. Pakistan will remain vigilant of the threats emanating from India and all other external sources. We will not only be prepared to foil India's propaganda campaigns and hybrid war, but will also work more effectively to create space for Pakistan's narrative in the global discourse. Facts and evidence are on Pakistan's side.
Conclusion
Pakistan's leadership is committed to attaining comprehensive national security for its citizens. This is dependent on a strong economy and utilization of Pakistan's critical geographical location to focus on geo-economics. Our geography makes us an ideal place to become a hub of regional connectivity. The realization of Pakistan's vision hinges on a peaceful neighborhood and amicable resolution of disputes. However, as Pakistan embraces a direction based on greater connectivity and peace, it is fully prepared to confront the full spectrum of security challenges it faces from both external and internal fronts. No compromise will be made on continuing to bolster our defence capabilities even as a sustained economic turnaround remains a top priority.
Visions take time to become reality. They involve mobilization of resources, harnessing of institutional capacities, long-term reforms, continuity of policies, geo-political developments aligned with a country's outlook, and most importantly, the will to persevere. Pakistan's geo-economic vision will also be optimized over time. But the direction is clear and the determination to walk the difficult path exists. Pakistani leadership is determined to build a strong economy to expand the national resource pie and then prioritize its redistribution to ensure human welfare for all, especially marginalized communities-economically, socially, or geographically-and an even more robust traditional security apparatus. The ultimate objective of comprehensive national security will remain the safety, security, dignity, and prosperity of the most disempowered citizens of the country. Our geo-economic vision embodies the most realistic path to achieving this objective.
Former National Security Adviser of Pakistan. Holds a PhD in Political Science from Boston University and has taught Political Science / International Relations at Boston University, George Washington University, LUMS the Quaid-e-Azam University.